Room 11608, Unit 1, Building C, Door of Metropolis, Tangyan South Road, New Area of High-tech District, Xi'an City, Shaanxi Province, China

+86-29-89305761

+86-29-89305769

brightway@brightwaysolids.com
Offshore Mud Skip (Cuttings Box) Container for Egypt
2022-10-13
Recently, Brightway delivered a batch of 100 sets of
Offshore Mud Skip
(Cuttings Box) for Egyptian customers. The effective volume of this batch of mud skip container is 2.5m ³, which will be used to collect waste drilling cuttings.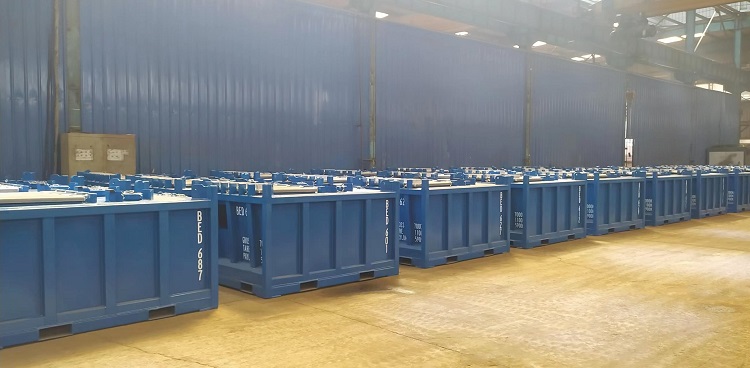 The mud skip container, also known as the drilling cuttings box, offshore mud skip or drilling cutting skip , is mainly used for the offshore drilling platform to cooperate with the drilling cuttings recovery equipment on the site for drilling cuttings recovery, storage box transfer and other work. The drilling cuttings, rock cuttings and other wastes generated during the drilling operation shall be collected and stored in the mud skip container, transported to the centralized disposal site for centralized treatment by means of cranes or forklifts, and transported to the disposal or discharge site. The operation is safe, convenient, cost-effective, and can be stacked to reduce the risk of leakage. Brightway can customize and produce a variety of specifications 2-4m ³ mud skip container with effective capacity and mud skip container for offshore drilling shall be provided with relevant certification, weld flaw detection report, etc.
The effective volume of the mud skip container delivered this time is 2.5m ³, with large inlet and outlet and inclined angle, it is more convenient and safe to collect and dump rock cuttings. The top cover is sealed with high quality rubber to effectively prevent the overflow of rock debris. The stackable structure design allows no need to increase the floor area when increasing the capacity. The mud skip container is also designed with lifting and liquid discharge holes to ensure safe and fast lifting of equipment. At the same time, the objects in the box shall be completely discharged for flushing and cleaning.
Please email us at brightway@bwwell.com for more specifications and production customization of mud skip container.
Anterior :What Is the Most Important Spare Part on a Desander or Desilter?
Próxima :Solids Control Equipment For Russian