Sludge vacuum pump, also known as solids vacuum pump or solids transfer pump, which is a high load and strong suction pneumatic vacuum pump. It is a vacuum pump that forms vacuum through gas movement for suction, and then converts it into pressure for material discharge. It can pump solid, powder, liquid and solid-liquid mixtures and many other different materials. There are no rotating parts in its cavity, which enables it to work in the most difficult environment, and it can transport more than 80% of the solid phase at high speed.
Sludge Vacuum Pump has the following characteristics
The high-efficiency venturi device can produce up to 25 inches of HG under strong air flow, which is equivalent to 85Kpa vacuum degree to suck the material. The pump body structure is compact and the delivery distance is up to 500-1000 meters. Brightway solids vacuum pumps are widely used for drilling mud and cuttings transfer, oil spill capture and transfer, tank cleaning operation, the long-distance transportation of waste suction, and the transportation of minerals and waste.
Vacuum Pump of Transportable material category
The materials that can be transported are: drill cuttings discharged from the shale shakers; waste mud, drill cuttings and tailings; oil sludge in the mud pit; harmful Cleaning of waste; solid particles such as sand; Cleaning of sediments on the bottom of the ship; Feces, waste in underground sewage pipes; Diatomite.
Advantages of Brightway Sludge Vacuum Pump
1. Strong suction capacity, long delivery distance, suction distance up to 50 meters, discharge distance up to 500-1000 meters;
2. Used for conveying a wide range of materials(liquids, mixed liquids, solids, powder)
3. The maximum particle size of solid materials that can be transported is 50mm or 75mm, and the solid content of the mixed liquid can be transported up to 80%;
4. Pneumatic work, no power supply, meet the requirements of the explosion-proof area;
5. Compact structure, easy to move;
6. Work automatically and continuously, easy to operate and maintain;
7. No rotating parts in the cavity, long service life.
BW Sludge Vacuum Pump Parameters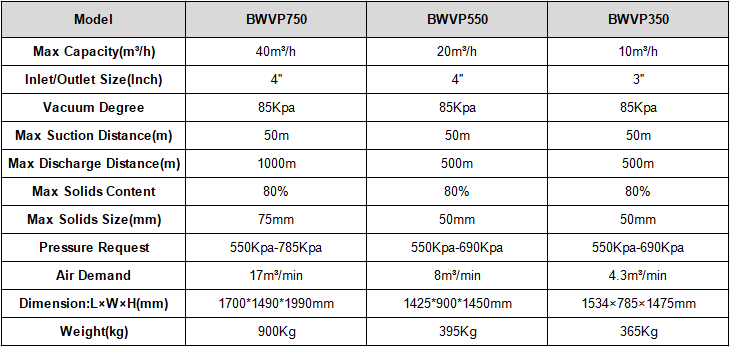 Air compressor technical parameters (optional or customer-supplied)